Rip CD to wma files
---
A WMA file is Windows Media Audio file. WMA is the proprietary format developed by Microsoft to compete with MP3. The format also supports DRM to protect digital rights. With AnyBurn, you can burn Audio CD from WMA files.
With AnyBurn, you can rip Audio CD to wma files, store them on your computer, thus you can listen your favorite songs without the real CD. You can also burn the wma files to create a new copy if the original disc is scratched. To rip CD to wma files, please follow the steps,
1. Run AnyBurn, and click "Rip Audio CD to mp3/flac/ape...".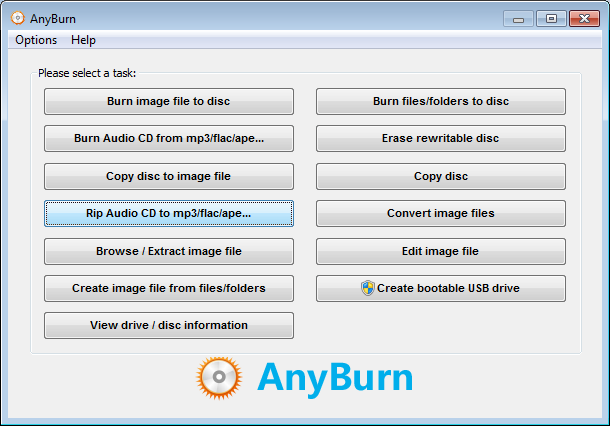 2. AnyBurn shows the "Rip Audio CD" page. Please select the correct drive from the source drive list. All tracks in the disc will be listed. It will also try to read the CD-Text information from the disc or Internet. Please select the tracks you want to rip from the tracks list, and click "Next".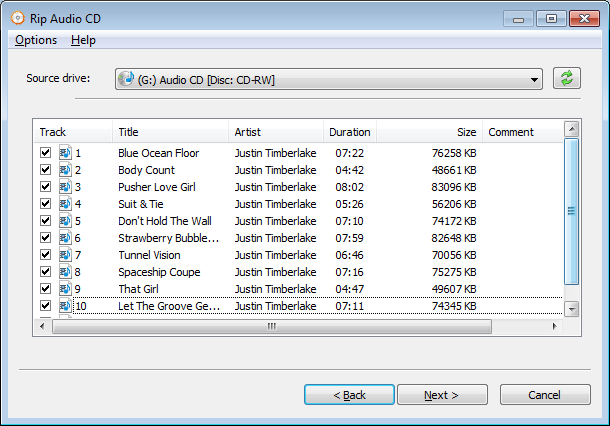 3. AnyBurn shows the Rip settings page. Currently, AnyBurn can rip CD to the mp3, flac, ape, wav, and wma formats. Please select wma as the output formats.
The output mode can be "Multiple files" or "Single file". For "Multiple files" mode, anyburn will rip each track to a separate wma file. For "Single file" mode, all tracks will be ripped to a single wma file, and a cue file will be created to describe the tracks information.
You can click browse button to change the ripping destination folder. By default, the output file name looks like 01-track title.wma. You can change it if necessary.
Click "Rip Now" to start ripping cd to wma files.
4. AnyBurn will now start ripping Audio CD to wma files. It will show the progress information during ripping. You should see the message, "Ripping Audio CD finished successfully" after the ripping completes.